"

PDA jamming strong under the guidance of P-Dub, a dreadlocked singer and multi-instrumentalist who can testify like a rootsman or mellow the vibe like any of the best lovers rock crooners"
Bio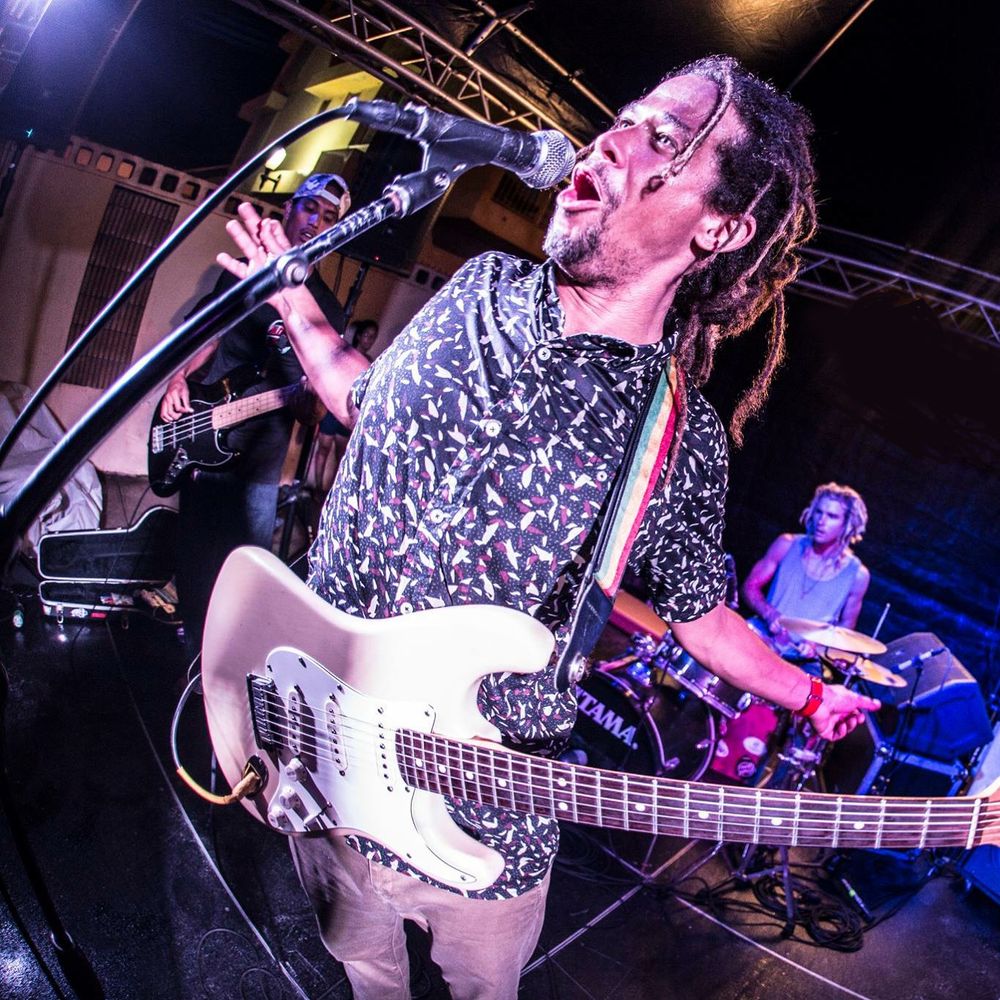 P-Dub & Predator Dub Assassins
P-Dub (aka Timothy Boyce) is a US based artist who has developed a unique brand of contemporary reggae fused with hip hop, rnb, pop and rock. P-Dub has been performing with his band Predator Dub Assassins in the US and Caribbean since 2001 appearing live with Culture, Isreal Vibration, Lee Scratch Perry, The Wailers, Toots and The Maytals, Midnight, Symarip, The Skatalites, Collie Buddz, Yellowman, Stephen Marley, Damian Marley and Mystic Bowie among many others.
P-Dub's path to reggae music was an inspiring one. " I was taken in by a Kingstonian Rasta man when I was 17 and really needed someone or something in my life." As he recalls: "He took me under his wing and into his home and literally forced me to play reggae and it saved my life. Up until that point I had only been in rock bands, but he had a huge DJ soundsytem and a recording studio and when he formed a roots reggae band around this operation I was drafted to play guitar and sing. I had found a home musically and spiritually and I've never left. Later, of course, came punk and ska which blended perfectly with the musical stew I was already brewing."
Since then, the prolific group has released more than 15 full length albums including: "Predator Dub Assassins" (2005), "The Hardest" (2007), "East Coast Dub Cartel Volume One" (2008), "Fully Qualified" (2009), P-Dub's solo debut "Frontline" (2010) The Dub Files Volume 1 (2011) "Last Band Standing" (2012), Decade Of Dubs (2016) The Dub Files Volume Two (2017) Songs In The Key Of Sea (2018) Just Before September (2018) Miami Nice (2018) A Very Dubby Christmas (2018) Smoke and Mirrors (2019) On Any Sunday (2019), Positive Progression (2020) and Black Swan (2020).
Predator Dub Assassins made an appearance on the hit TV series "American Chopper" in 2009, and have supplied music for several popular TV programs on the Food Network and Fuel TV. Key television placements include CBS network television show Hawaii 5-0, The Glades on A&E and What We Do In The Dark on FX. P-Dub also provided guitar work on feature film The Wolf Of Wall Street directed by Martin Scorcese in 2013 and had a featured vocal in Cobra Kai on Netflix in 2020. Other projects include writing and recording the Red Stripe jingles being used on the company's current "Hooray Small Victories, Hooray Beer" campaign and a featured P-Dub solo track on 2019 International Film Festival & Awards nominee film Goldie.
Additionally P-Dub has worked as a singer, songwriter and producer with a diverse range of artists in reggae, hip hop, rnb and pop including: Akon, Pitbull, Twista, Trina, The Diplomats, Pharoahe Monch, French Montana, Three 6 Mafia, Buju Banton, Maxi Priest, Wayne Wonder, Juicy J, Ace Hood, Gyptian, Jermaine Dupree and Britney Spears. He featured on Trina's Amazin' album alongside pop luminaries Lady Gaga, P-Diddy, Trey Songs, Rick Ross, Nicki Minaj and Lil' Wayne.  
P-Dub and Predator Dub Assassins are currently based out of Asbury Park New Jersey. They are performing live, producing new projects for clients and artists, and recording material for an album releasing in 2022.
BAND LINEUP
P-Dub : Guitar and Vocals
Ryan Thompson : Bass and Vocals 
Gabriel Sanderson : Keyboards and Vocals
Patrick Clarke : Drums